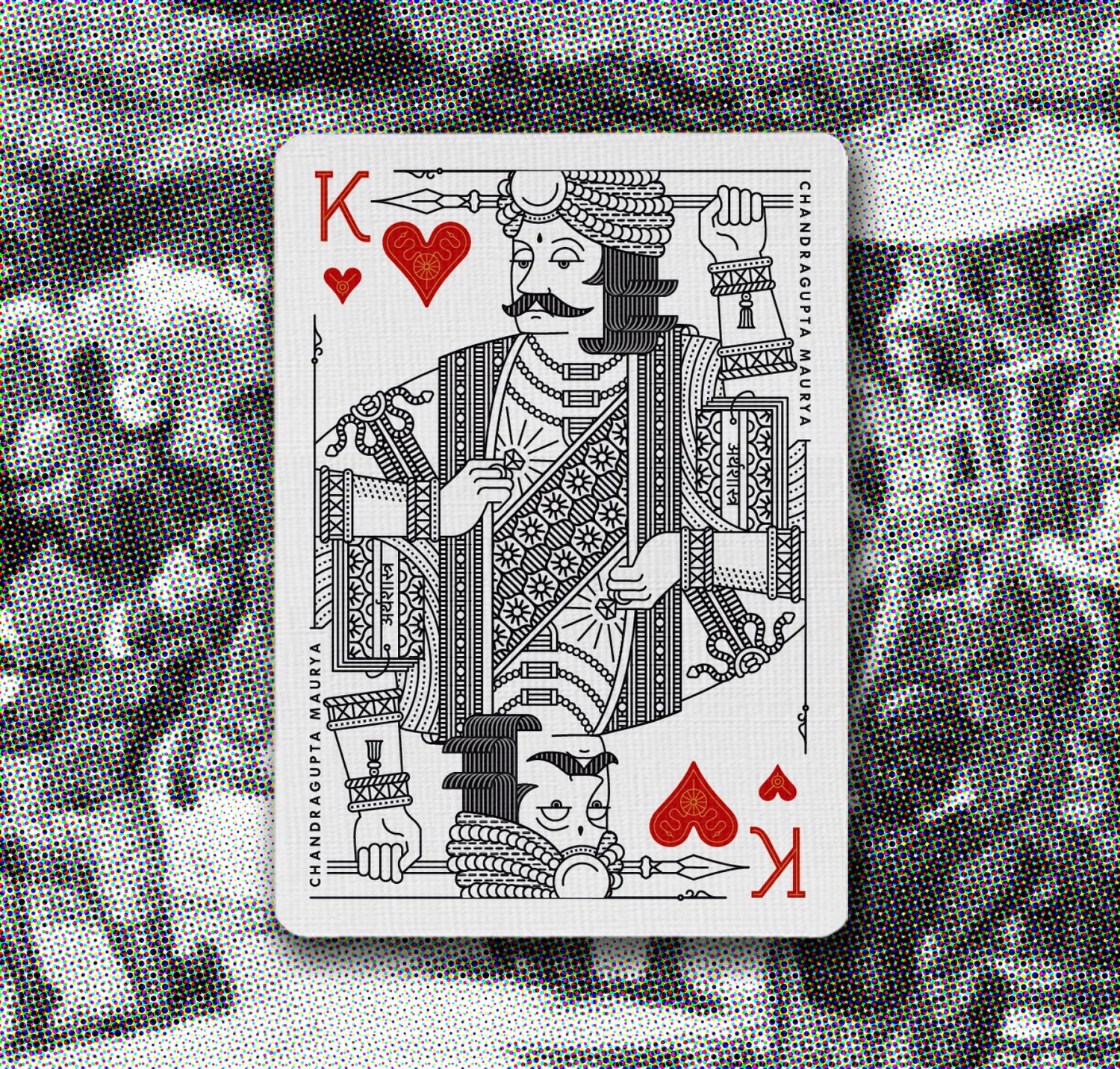 Chandragupta Maurya
Though his origins are disputed, it is clear that a devious and disgruntled brahman Chanayaka (aka Kautilya) took young Chandragupta under his wing to overthrow the Nanda dynasty. At the time, the infamous Greek conqueror Alexander the Great had left Punjab, leaving a power vacuum and conflict that Chandragupta and his mentor took advantage of.

As the creator and founder of the most extensive empire ever forged by an Indian dynasty, you can think of Chandragupta as an 'Indian Julius Caesar'. He ruled his empire with Chanayaka's epic and powerful political guidebook, the Arthashastra "a guide not only for the acquisition of this world but of the next"
REIGN 321 - 297 BCE

LIVED

340 - 295 BCE

CROWNED

age 20

REIGN

24 years

SPOUSE

Durdhara

PREDECESSOR

Dhana Nanda (Nanda dynasty)

SUCESSOR

Bindusara

CHILDREN

Bindusara

GRANDCHILDREN

Ashoka, Susima, Vitashoka
Durdhara
Durdhara was the queen of Chandragupta Maurya and grandmother of Ashoka the Great, the third and most infamous Mauryan King.
According to early Jain legends her husband's chief advisor, Chanyaka, would build the emperor's immunity against possible poison attempts by feeding him small doses of poison in his food. Unfortunately, when she was a few days from delivering her baby boy, the king mistakenly shared a plate of his food with her. Unable to fight the poison, she collapsed but baby Bindusara survived and lived on to eventually be crowned king.
REIGN ~320 BCE

SPOUSE

Chandragupta Maurya

CHILDREN

Bindusara (father and predecessor of Ashoka)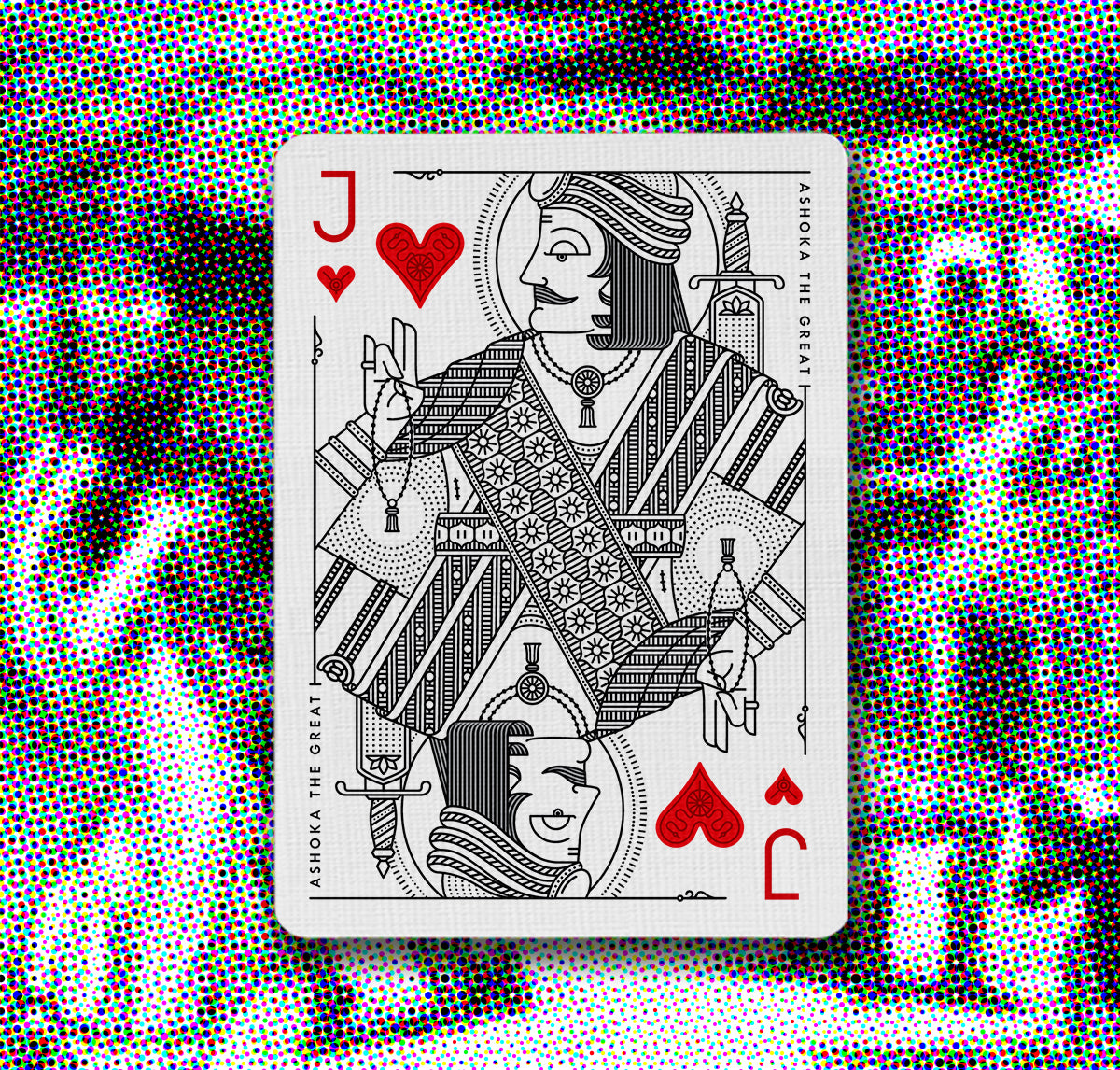 Ashoka the Great
The infamously nonviolent and tolerant rule of Ashoka stems from bloody beginnings. As King, he set out to battle the unconquered region of Kalinga and although the Mauryans won the war, Ashoka's conscience was defeated; the epic suffering and violence he witnessed changed his heart and rule forever. 
Renouncing war for peace, Ashoka refocused his efforts to spreading his philosophy of dharma - nonviolence, tolerance and kindness towards others. His message was engraved in multiple languages on pillars, cliffs and rocks across his massive nation (a territory so large that it is still known to be South Asia's largest empire). Between such a diverse and enormous population these rock edicts encouraged tolerance and a sense of unity that overcame differences in sect, caste and kin. Millennia later, the surviving lion capital of one of these Ashokan pillars would become India's national emblem.
REIGN 268 - 233 BCE

LIVED

304 - 232 BCE

CROWNED

age 36

REIGN

35 years

SPOUSES

Vidisha-mahadevi

Padmavati

Tishyaraksha
Asandhimitra

Karuvaki

PREDECESSOR

Bindusara

SUCESSOR

Dasharatha

CHILDREN

Mahendra 

Sanghamitta

Tivala

Kunala

Charumati
Samudragupta
Famous epithets describe him as "the unconquered conqueror of unconquered kings"; others glamorize "the prowess of his arm in battle". Samudragupta was the war hero & military genius that ushered India's classical age. His powerful military campaigns succeeded in all directions so it is no surprise that historians refer to him as the Indian Napoleon.
He made his presence known throughout his many kingdoms with exquisitely crafted gold coins immortalizing him as a great warrior yielding his battle axe, as a musician playing the vina - an ancient harp, or commemorating his sacred vedic horse sacrifice. The Gupta empire grew with wealth and prosperity under Samudragupta's rule and his keen patronage of the arts brought rise to the classic and golden age of India.

REIGN 335 - 375 CE

REIGN

40 years

SPOUSE

Dattadevi

PREDECESSOR

Chandragupta I

SUCESSOR

Ramagupta

CHILDREN

Ramagupta

Chandragupta II (Vikramaditya)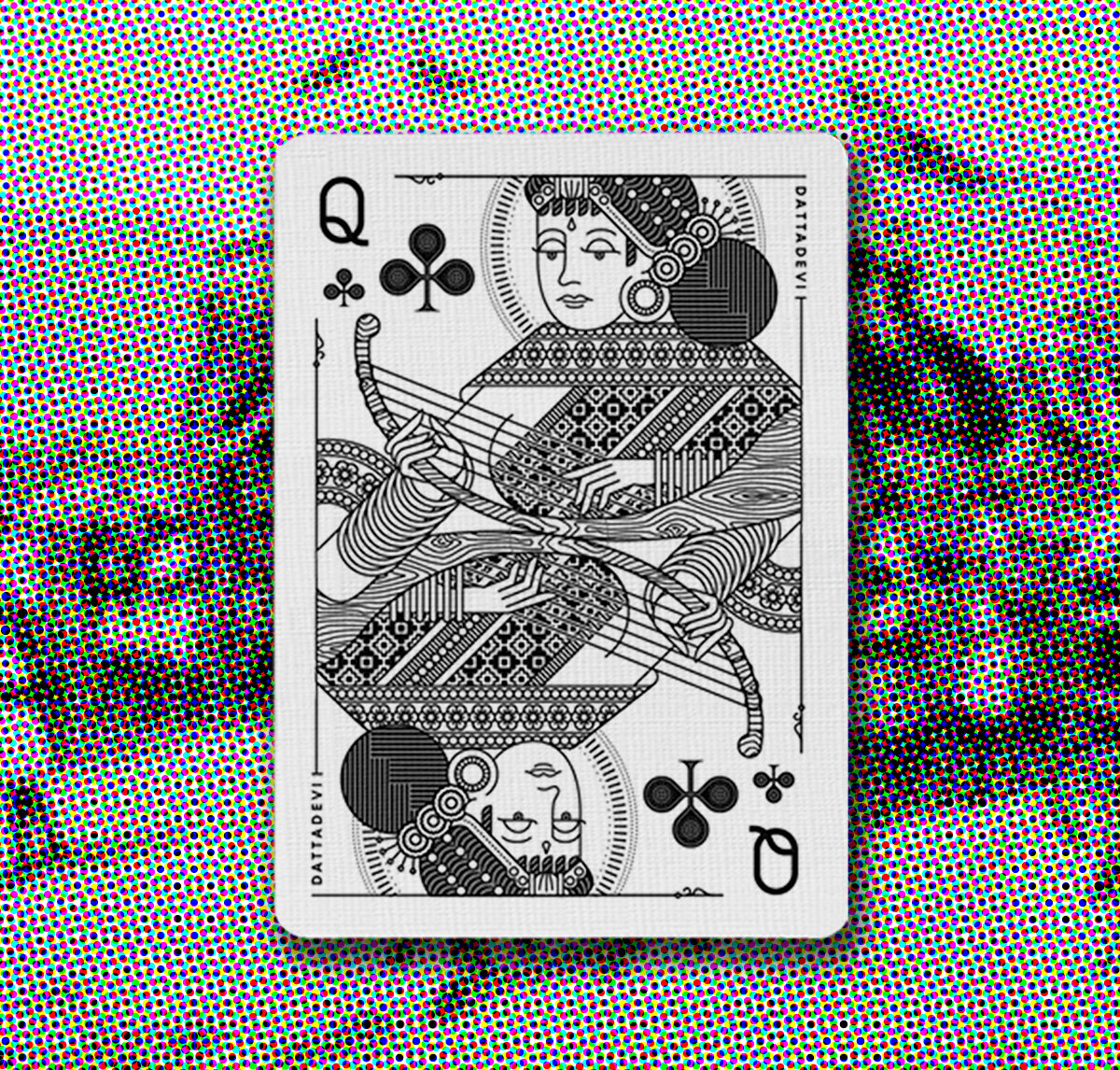 Dattadevi
Dattadevi is immortalized on the beautifully minted gold coins of Samudragupta's reign. As his chief queen she was a crucial and valued partner in his endeavours, notably for her key role in the royal Ashvamedha - an ancient vedic ritual performed by a King and his queen to bring prosperity, power and glory to the kingdom. 
Their son Chandragupta II would grow up to become the celebrated successor of Samudragupta and one of the greatest kings of India.
CHILDREN

Ramagupta

Chandragupta II (Vikramaditya)
Chandragupta II Vikramaditya
Following his father's footsteps, Chandragupta II strategically extended his inherited territory and consolidated the Gupta empire. He brought about a period of stability and prosperity in which the arts flourished and the empire reached a cultural zenith. Scholars and poets formed the 'nine gems' of his court and an international university was even created to encourage their pursuits.
The cultural, artistic and scientific endeavours of this era spawned significant advances. The solar year's length was calculated with a precision that surpassed that of the Greeks, the decimal system was perfected and the concept of zero made its debut into the world. The poetry of the great Sanskrit epics were written and the beautiful frescos found in the Ajanta caves were intricately painted. New discoveries in metallurgy created advanced weaponry such as the steel bow (often featured on Chandragupta II's gold coins).
REIGN 375 - 415 CE

REIGN

40 years

SPOUSES

Dhruvadevi

Kuberanaga

PREDECESSOR

Ramagupta

(his older brother - a short reign whose dramatic end is described in the Sanskrit play, Devichandragupta)

SUCESSOR

Kumaragupta I

CHILDREN

Kumaragupta I

Prabhavatigupta

Govindagupta
Rajaraja Chola I
Though Ashoka the Great had mentioned the Cholas in 3rd century BCE, it wasn't until Rajaraja Chola took the throne that the Chola dynasty truly expanded to become the major power of medieval India. He expanded trade networks across the Indian Ocean, taxing heavily and plundering greedily in his military adventures and maritime expeditions, returning home to give back to his people.

Fathering the South Indian art of politics, he captured the imagination and devotion of his people through the ultimate symbol of royal and political power, a colossal temple dedicated to Lord Shiva (but named after himself). The Rajarajeswaram, otherwise known as Brihadeeswarar Temple, formed an economic storehouse for his accumulated wealth and a stage for his contributions to artistry with sculptures, dancers, elaborate ceremonies and lavish descriptions of his generous distribution of wealth to his kingdom. The temple itself is a feat of engineering and is still known to be one of the largest and tallest temples of India. It is fair to say that he certainly succeeded to memorialize his remarkable achievements in a temple that was as much about god as it was about himself.
REIGN 985 - 1014 CE

LIVED

947 - 1015 CE

CROWNED

age 30

REIGN

29 years

SPOUSES

Lokamahadevi

Thiripuvana Madeviyar

Cholamahadevi

Trailokyamahadevi, Panchavanmahadevi

Abhimanavalli

Latamahadevi

Prithivimahadevi

PREDECESSOR

Uttama Chola

SUCESSOR

Rajendra Chola I

CHILDREN

Rajendra Chola I

Araiyan Rajarajan
Gangamadevi

Kundavai 
Lokamahadevi
As the chief Queen of Rajaraja Chola I 'the King of Kings', it is only fitting that Queen Dantisaktivitanki was known as Lokamahadevi 'the great queen of the world'. Though she was overshadowed by the King's great legacies and epic constructions such as his Rajarajeswaram (the Brihadisvara temple in Thanjavur), Lokamahadevi had created a legacy of her own - much more modest in size but with an impact that still resonates today.
The Lokamahadevisvaram - otherwise known as the Vadakailasam temple, was completed in 1006 C.E. under the orders of the queen and co-administered by a female officer. The inscriptions on the temple describe the queen's generous donations of exquisite jewels and gold but more importantly state her honourable demands that were respected for the temple's construction giving women an equal and respectable role in the temple's administration.
Rajendra Chola I
In Rajaraja Chola I's final years, his son Rajendra Chola I ruled the kingdom by his side learning from the best to bring the great Chola power to its height. During Rajendra's reign the empire reached its zenith as the economic, military and cultural power of South and Southeast Asia.

He reinvaded Sri Lanka and his naval fleets sailed across the seas to take over critical trading ports and maritime powers in South-East Asia. He triumphantly expanded his territory to the north (complete with mighty war elephants that formed bridges for his infantry to cross rushing rivers) until his power stretched all the way up to the river Ganges. With heavy control of the Indian Ocean trade route and hoards of treasures, he commissioned an impressive temple and even engineered a man-made 5 km long Ganga of his own in a new capital city, Gangaikondacholapuram "the city of the Chola who conquered the Ganga"
REIGN 1014 - 1044 CE

LIVED

971 - 1044 CE

CROWNED

age 43

REIGN

30 years

SPOUSES

Tribhuvana (Vanavan Mahadevi)

Puteri Onangki

Mukkokilan

Panchavan Mahadevi

Viramahadevi

PREDECESSOR

Rajaraja Chola I

SUCESSOR

Rajadhiraja Chola I

CHILDREN

Rajarajan

Rajadhiraja I

Manukula Kesari

Sanga varman

Rajendra II

Rajamahendran

Virarajendra

Arulmoli Nangaiyar Piranar

Ammangadevi
Akbar the Great
The most celebrated of the Mughal emperors, Akbar certainly deserved his 'Great' title- he was not only a 'master strategist of war' but also of human psychology. 
As a teenage king, he revived a crumbling empire to create the powerful, wealthy and glorious Mughal legacy we all know. He ruthlessly pursued his thirst for power and influence, acquiring new territory 'with an iron fist' and exercised artful control and stability in his massively extensive empire. He constantly questioned and reinvented, which made him a tolerant leader and tactical innovator- both led him to victorious defeats when the odds were not in his favour. This was true both in war and in the governance of his diverse kingdom; refusing to be held back by his lifelong illiteracy, he embraced a variety of faiths and cultures in his courts in open discourses and intellectual debates allowing him to rule with his astonishing open-mindedness.
REIGN 1556 - 1605 CE

LIVED

1542 - 1605 CE

CROWNED

age 14

REIGN

49 years

SPOUSES

Ruqaiya Sultan Begum

Salima Sultan Begum

Heer Kunwari (aka Jodha / Marium-uz-Zamani)

Raj Kunwari 

Nathi Bai

Bhakkari Begum 

Qasima Banu Begum

Gauhar-un-Nissa Begum

Bibi Daulat Shad

Rukmavati

PREDECESSOR

Humayun

SUCESSOR

Jahangir

CHILDREN

Hassan Mirza

Hussain Mirza

Jahangir

Shahzada Khanam

Murad Mirza

Shakr-un-Nissa Begum

Daniyal Mirza

Aram Banu Begum
Heer Kunwari
Though commonly known today as Jodha (a misnomer that stems from the 1960 film Mughal-e-Azam), Heer Kunwari is popular symbol for Hindu-Muslim unity. Though her marriage to the muslim emperor Akbar was due to a political-alliance, it prevails as an example of religious tolerance. As a hindu Rajput princess, she not only continued to practise her faith and maintain respect in the Mughal court, but the powerful support provided to her family proved Akbar's dedication to treating hindus and muslims alike as his people.
She was influential not only within the imperial palace as the mother of the heir to the throne, Jahangir, but also as one of the most prodigious, prosperous and adventurous traders of the Mughal court - she was also the only noblewoman to have a rank of 12,000 cavalry.
REIGN 1562 - 1605 CE

LIVED

1542 - 1623 CE

CROWNED

age 20

REIGN

43 years

SPOUSE

Akbar the Great

CHILDREN

Hassan Mirza
Hussain Mirza
Jahangir (father and predecessor of Shah Jahan)
Daniyal Mirza
Shah Jahan
The Mughal period suffered from a recurring theme of distrust between fathers and sons, and between brothers - an issue that Shah Jahan was not immune to. In 1622, Jahangir bestowed the title Shah Jahan ('King of the World') to his favoured second son, Prince Khurram. Unfortunately, the nervous prince chose to take this opportunity to dispose of Khusrau, his blind elder brother and then rebel against his father. To seal the deal, he then ordered the death of his remaining brother and various rival cousins.
Despite such bloody beginnings, India owes some of its most treasured and celebrated monuments to Shah Jahan. The massive accumulation of wealth and treasures from Akbar's reign allowed Shah Jahan to become a connoisseur of fine art and establish a refined taste of pomp and grandeur that defines Mughal architecture. From his peacock throne, encrusted in jewels (including the coveted 186 carat Kohinoor diamond), to the infamous Taj Mahal, his commissions leave exemplary symbols of the might and magnificence of the Mughals.
REIGN 1628 - 1658 CE

LIVED

1592 - 1666 CE

CROWNED

age 36

REIGN

30 years

SPOUSES

Mumtaz Mahal

Qandahari Mahal
Akbarabadi Mahal

Lilavati Bai of Kharwa

Fatehpuri Mahal

PREDECESSOR

Jahangir

SUCESSOR

Aurangzeb

CHILDREN

Parhez Banu

Hur-un-Nisa

Jahanara

Dara Shikoh

Shah Shuja

Roshanara

Aurangzeb

Murad Bakhsh

Gauharara